LESLIE BERMAN
Attorney at Law
Arts &
Entertainment Links
450 Route 25A, Number 706
East Setauket NY 11733
Phone: 631-675-1139
Fax: 631-883-1064


---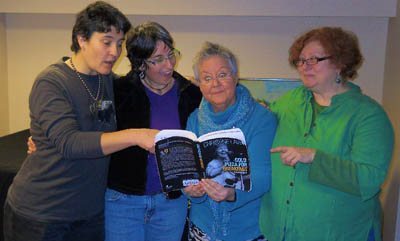 (L to R) Pat Humphries & Sandy O (Emma's Revolution), Christine Lavin, Leslie Berman
---
Links to some Entertainment and Intellectual Property Clients
Alli Berman * Emma's Revolution * Jeri Goldstein * Bobby King * Jen Kober * Christine Lavin * Rod MacDonald * Heather Wood * Irene Young
Alli Berman
Berman creates art that is visually appealing and visually healing. Her Puzzle Art Therapy is an integrated holistic system which helps build and strengthen perceptual learning, oculomotor, binocular, and creativity skills using whole-brain cognitive concepts.
Emma's Revolution (Pat Humphries & Sandy O)
"Boasting gorgeous close harmonies and unsinkable tunefulness, Emma's Revolution (the Emma is Goldman) is a classic, globetrotting folk duo comprised of activist singer/songwriters Sandy O. and Pat Humphries. Their music is progressive, socially-conscious, confrontational and shot-through with intelligence and cutting humor; their songs have been sung for the Dalai Lama, covered by Holly Near and they count the great Pete Seeger among their admirers. 'Revolutions Per Minute' is a front-to-back gem." ~Iowa City Press-Citizen. Latest releases are singles: "Sing People Sing" and "Love Reaches Out."
Jeri Goldstein (Performingbiz.com)
Goldstein, often referred to by her students and clients as Dr. Gig, teaches self-motivated musicians and performing artists how to Get Great Gigs and create tours that make more money.
Bobby King
R&B legend, vocalist, and vocal arranger for such luminaries as Billy Joel, Bruce Springsteen, and Ry Cooder, King set his secular career aside and is now serving up Gospel music exclusively through recordings and performances with his group and his Refuge Temple choir.
Jen Kober
Kober, originally from Lake Charles, LA, has recently bounded onto the national stage bringing crowds to their feet with her original blend of stand-up, story telling, and improvised rock-n-roll comedy. Her hard-hitting hour is phenomenally funny as Kober commands the stage and dares you not to laugh.
Christine Lavin
Lavin emerged from the crowded New York City songwriter scene of the '80s with a style that distinguished her from her peers. First, her songs were overwhelmingly concerned with contemporary romantic mores (that scary, uncertain world of "relationships," "commitments," and "biological clocks"). Second, while her takes on this subject could sometimes be sentimental or even maudlin, more often they were humorous. Her epic "It's a Good Thing He Can't Read My Mind" has been recorded by Katherine Von Till (Disney's official voice of Snow White), Heather Feeney, and the Gay Men's Chorus of Washington, DC.
Rod MacDonald
MacDonald is a renowned songwriter ("American Jerusalem" was recorded by Shawn Colvin; "A Sailor's Prayer" was recorded by Dave van Ronk, Jonathan Edwards, and others; many of his songs have been covered by, among others, Christine Lavin). He is a gifted vocalist and an engaging entertainer in full command of his artistry. His easy-going demeanor resonates an appealing warmth and sincerity that quickly creates an intimate rapport with his audiences.
Heather Wood
A folk legend from the Sixties, when she was a member of England's eminent a capella trio the Young Tradition, Wood sings English traditional songs and occasionally writes new ones.
Irene Young
With 600 CD covers and thousands of promotional photos to her credit, Young is not your average photographer.
---
Links to Music Organizations
---